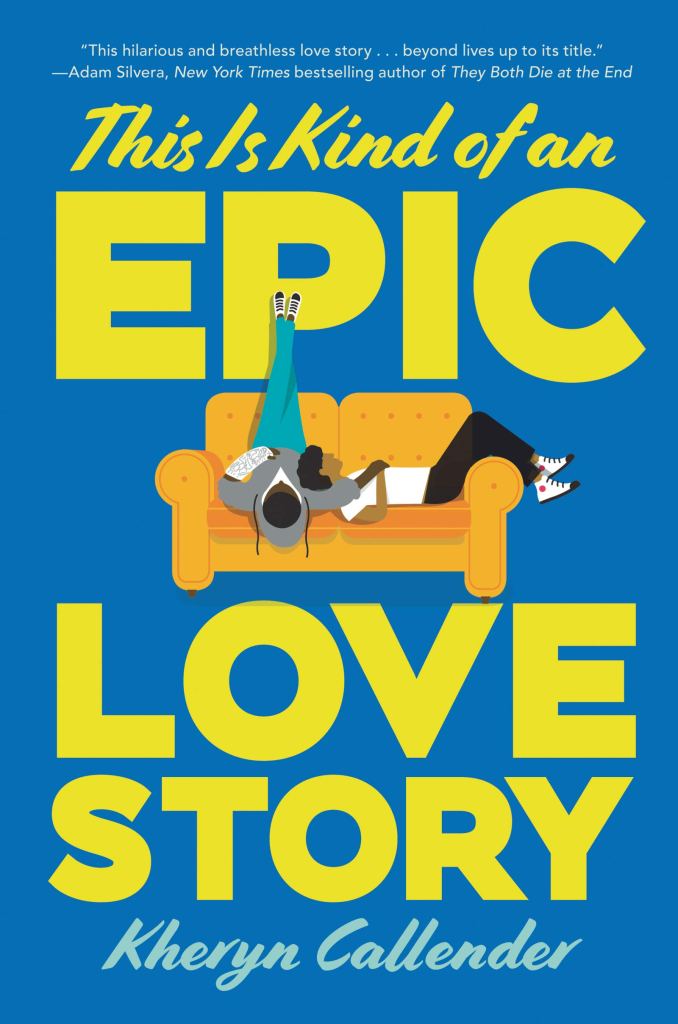 I've been on a bit of a nonfiction kick lately but This Is Kind of an Epic Love Story brought me right back in to remembering why I love YA fiction just as much. There are many epic love stories that are threaded throughout this book, which is representative of so many kinds of love. The main epic love story is that of protagonist Nathan Bird, and the ways that he experiences love with the people in his life. A major focus of the book is the tense but loving relationship between Nate and his mother, a single parent after his father's death seven years earlier, intertwined with the care and affection between Nate and his sister, Becca, who has just started her first semester at college out of state. Then there is the complicated history that Nate has with his best friend/ex-girlfriend Florence, who ended their romance but not their friendship after kissing her co-worker and current girlfriend, Lydia. And, of course, there is Oliver James Hernández, Nate's former best friend who has just moved back to Seattle from Sante Fe and is just as cute as ever.
One thing I really appreciated about This Is Kind of an Epic Love Story is how seamlessly it integrated the varying identities of the characters. I've made no secret of the fact that I love intersectional books, but one thing I can very much appreciate is when a book is intersectional not as its purpose, but as a natural consequence. This book isn't about the sexuality of the characters, and no labels are ever used, but the shape of the story is absolutely affected by the fact that Flo and Nate each have multiple partners of varying genders because the circumstances of how the characters treat each other are affected. For example, Nate's mother is far more lenient with Ollie and Nate's relationship rather than Nate and Flo's, because she does not know, or I presume even suspect, that they are in a romantic partnership.
A further testament to the dynamic nature of a character driving the story is that Ollie lost his hearing when he was ten, and while that doesn't define his character or his actions, nor does it restrict his friendships or his abilities as a student and an artist, it does mean that certain accommodations need to be made for him. This affects the narrative of the story in unique ways when there is a scene with Ollie present, because the dialogue is interspersed with descriptions of sign language and/or its translated meaning, bolded text representing something that was typed so that Ollie could read it, and repetition when a hearing character says something that Ollie was unable to parse at first or when Ollie signed faster than Nate could understand.
Ultimately, the characters and their relationships — both romantic and platonic — are what drives this story. The ways that the characters interact with one another breeds the main conflict of the story — namely, Nate's belief that love is inherently doomed, and that in real life, there is no such thing as a happy ending. All of the conflict in This Is Kind of an Epic Love Story circles back to this idea, from the grief of Nate's family, specifically his mother, after his father's death, to the divorce of friend's parents, to the dissolution of high school relationships where partners kiss other people when the relationship was supposed to be monogamous, and even the platonic attachment to friends and family who are kept at a distance as Nate strives to be more independent. Nate also shows real vulnerability throughout the text as he worries and deliberates over ever becoming comfortable enough with another person to have sex, and I really appreciated how seriously the author, Kacen Callender, treated his uncertainty and the respect that the other characters had for Nate's boundaries. I think that they (Callender) handled a sensitive issue really well, and they also succeeded in making the teenage sex scenes what I consider to be just the right level of awkward.
As a side note regarding the importance of character development, another set of important characters that I have yet to mention are Ashley and Gideon, who are important to the plot as the supporting cast to Ollie, Nate, and Flo's story. What I find particularly delicious about this is that Gideon is the nerd who got popular and is expected to date the head cheerleader and Ashley is a bit of a girl next door who is very friendly (and kind of annoying) and has had a secret crush on him for years, and yet these two white characters who are the stereotypical lead roles take a backseat to the complicated relationship dynamic between Ollie, Flo, and Nate.
Overall, I adored this book, and as I said before, I was reminded while reading of just how much I love YA, and just how much I love reading fiction in general. I honestly couldn't put it down and read the whole thing in one go, and thus I highly recommend!
Cheers,
Talia
PS — I almost forgot to mention, all of the characters are super nerdy, there are a ton of on point pop culture references, and I am so here for it.