Happy October and merry meet to all members of my wandering troupe!
Firstly, I thank you for adjusting to the changes in the schedule for last month, when I had to put exclusive posts on pause. I appreciate the grace that you have given me in this particularly tumultuous time in my life. 2020 has been a hard year for all of us, and the past month was particularly hard for me. That said, let's dive in.
What have I been up to?
The major essay I wrote for Word-for-Sense last month was Words are Weapons: Nonbinary Trans Thoughts About J.K. Rowling. I've been very affected by the recent comments and actions taken by the author of the Harry Potter series and the subsequent reactions of the public. These have radically shifted both my worldview and the way I will be interacting with Harry Potter content in the future. There is a serious question as to whether or not I will continue with my fanfiction projects on Jesmalestiel Tells Tales centered around Harry Potter, and I have ceased all public promotion of the Harry Potter series going forward, though I can't do anything about what has appeared under my name in the past.
Also published on Word-for-Sense are two posts about writing, both of them short-form snapshots of writing that I composed when I was in grad school that reflect my thoughts about the practice at that time. In Some Thoughts About Writing Things Down I talk about why I think writing things down is important, and how writing serves me as a practice. In Sometimes You Just Have to Start Writing the point of the post isn't so much about writing itself, but about how sometimes, in order to collect one's thoughts about the world and share them, one has to just start without letting themself stop. From there I digress into talking about the consequences about having expectations for one's life, and how when that is unmitigated it guarantees dissatisfaction.
Additional Publications
Part of the reason this post is coming to you a little farther into October than I would typically place it is because I wanted to include two publications that came out early this month. The first is an article published in Nerdist — How The Doctor Leaves a Path of Destruction on DOCTOR WHO. It was the featured front page article on their website on October 7th, and covers some of the more catastrophic consequences of the Doctor's journey through time and space.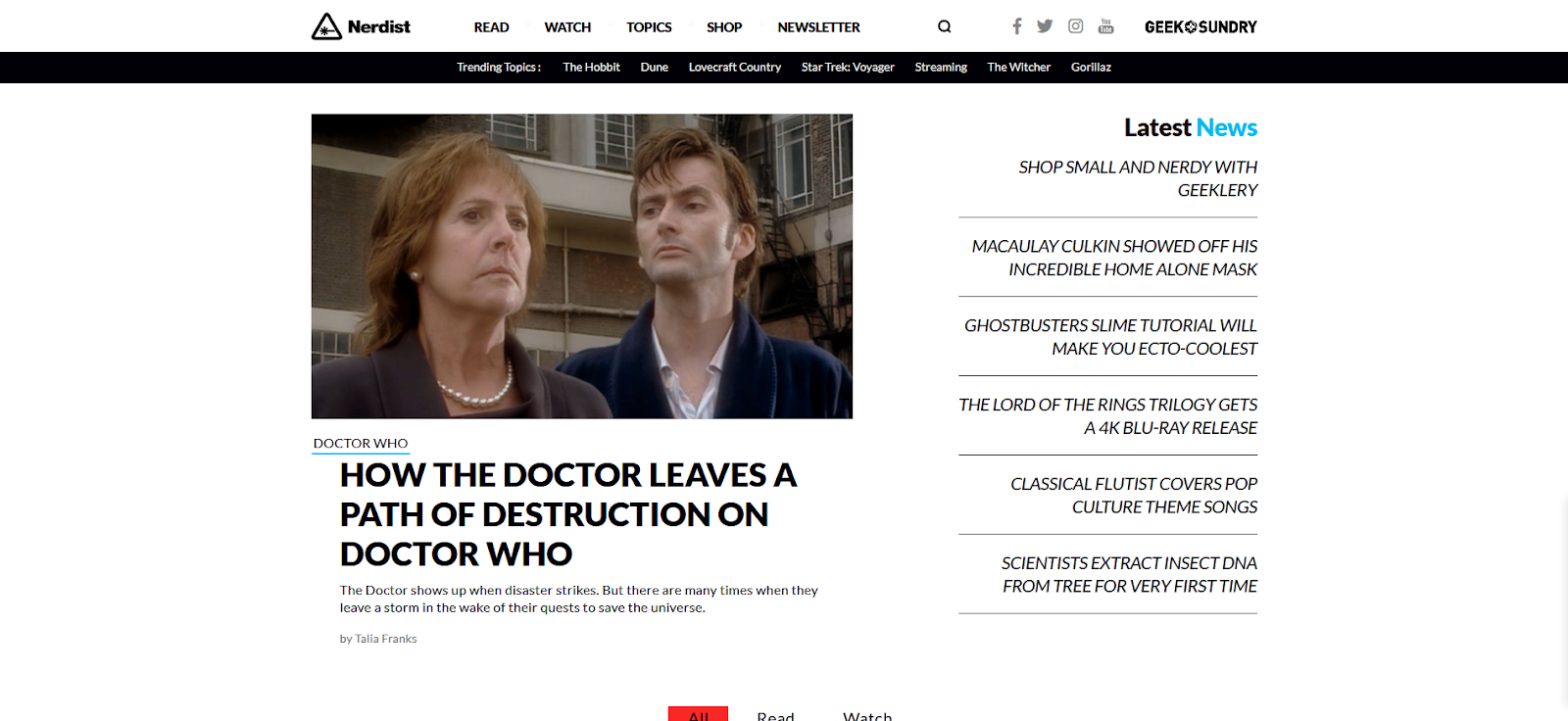 My second publication is a sonnet I published on Black Girls Create as part of their Black Creative Futures celebration in October, called Dreaming with Shakespeare. And in case you missed the update to last month's newsletter, my article Sacrificial Narratives: The Exploitation of Ariana Dumbledore in Harry Potter has since been released.
Moving into the spookiest time of the year
Part II of The Innkeeper has been completed and I am already starting to draft Part III. Keep an eye out for the release of Part II on October 17th.
I've started reading The Titan's Curse, and I'm enjoying it so far! It's nice to be reading again. I expect to have Part I of my reaction to the book up later this month.
________________________________________________________
Thank you so much for your support. Fare thee well, merry wanderers!
Talia